1.
How spies used Facebook to steal NATO chiefs' details
2.

Big Brother 2.0: What If the NSA Adopts Facebook's 'Hacker Way'?

2A.

Big Brother's Facebook: UK, US intelligence 'infiltration" social media - April 5, 2014
3. Facebook, others provide the National Security Agency with full access to their servers and one million accounts.
3A. Under Pressure - Facebook, Microsoft Disclose Government Data Requests, But Google Balks


3B. MIT Extensive 20 page report on Facebook Threats
3C.

GAO Concludes that National Security-Related Agencies Have Not Adequately Addressed IT Supply Chain Risks

3D. "7 Reasons I Dumped Facebook"
3E. "Thousands of Facebook accounts hacked"

3F. What can law enforcement do with your Facebook information? ABC News 11.4.13

4.
Russian Facebook investors have sparked U.S. concerns
T
5. Facebooks Friend in Russia

6.
Facebook Financing Raises Russian Corruption Concerns
7. Groupon investor Yuri Milner sees five-fold investment leap


8.
Who is Alisher Usmanov?
9.
Who is Alisher Usmanov?
10. Richest Russian Alisher Usmanov Aided by Facebook as
Billionai

re

10A. Russia's Zuckerberg sells out to Putin's buddy


10B. Why Facebook and Silicon Valley owe it all to Moscow


11. Russian Intelligence Calls Facebook Information Warfare Weapon


12. Mexican Drug War Spreading to the Web .


13.To Battle Cartels, Mexico Weighs Twitter Crackdown
14. Lots Of Facebook Users Are Idiots, Says Consumer Reports


15. FBI Warns: Humans Are a Weak Link in Cyber Security
16.Why Facebook and Silicon Valley owe it all to Moscow
17.Virtual Terrorism: Al Qaeda Video Calls for 'Electronic Jihad'
19. Glenn Mangham Sentenced To Prison After 'Extensive
Facebook Hacking
20. British student jailed for hacking Facebook -Posted on 20 February 2012.
21. WikiLeaks founder: Facebook is "most appalling spying
machine ever invented"
22. Facebook, MySpace caught releasing user data
23. U.S. Feds get warrants to mine Facebook accounts
24.
Military May Ban Twitter, Facebook as Security 'Headaches'
25. How To Hack Facebook In 51 Seconds
26A. Hack your own Facebook Account and protect Yourself
26. Five Hidden Dangers of Facebook
27. Security dangers of Facebook and other social networks


28. Is This Espionage 2.0?
29. On Facebook? You're An Open Book Now


31. Hack your Facebook photo in 30 seconds - ReFaceBook

32. The Mental affect of Facebook - University of Michigan Study

33. Facebook Suicide
34. National Security Agency - Tracks social network users Sept 2013
1.
How spies used Facebook to steal Nato chiefs' details
NATO'S most senior commander was at the centre of a major security alert when a series of his colleagues fell for a fake Facebook account opened in his name - apparently by Chinese spies
Adml James Stavridis Photo: GETTY
By Jason Lewis, Investigations Editor,, in Washington DC
9:00PM GMT 10 Mar 2012
Senior British military officers and Ministry of Defence officials are understood to have been among those who accepted "friend requests" from the bogus account for American Admiral James Stavridis.
They thought they had become genuine friends of Nato's Supreme Allied Commander - but instead every personal detail on Facebook, including private email addresses, phone numbers and pictures were able to be harvested.
Nato officials are reluctant to say publicly wo was behind the attack. But the Sunday Telegraph has learned that in classified briefings, military officers and diplomats were told the evidence pointed to "state-sponsored individuals in China". http://www.telegraph.co.uk/technology/9136029/How-spies-used-Facebook-to-steal-Nato-chiefs-details.html






2.


James Poulos, Contributor
I write about the politics and culture of business.
Follow on Forbes (13)
|
3/28/2012 @ 9:48AM
|

3,535 views
Big Brother 2.0: What If the NSA Adopts Facebook's 'Hacker Way'?
The government is getting better than you at remembering your life.
This month's Wired report on the National Security Agency' massive new Utah compound — it'll be over five times the size of the Capitol — looks even more terrifying after a glance at Mark Zuckerberg's recent shareholder letter. So far, the letter has attracted attention because some think the letter shows why Zuckerberg doesn't have to give investors much face time, and some don't. That's small potatoes compared to the big picture that the Utah Data Center throws into such sharp focus.
In the letter, Zuckerberg makes public something he calls "the Hacker Way," the defining approach to Facebook's "culture and management."It's worth quoting at length:
The word "hacker" has an unfairly negative connotation from being portrayed in the media as people who break into computers. In reality, hacking just means building something quickly or testing the boundaries of what can be done.
Like most things, it can be used for good or bad, but the vast majority of hackers I've met tend to be idealistic people who want to have a positive impact on the world.
The Hacker Way is an approach to building that involves continuous improvement and iteration. Hackers believe that something can always be better, and that nothing is ever complete. They just have to go fix it — often in the face of people who say it's impossible or are content with the status quo.
Hackers try to build the best services over the long term by quickly releasing and learning from smaller iterations rather than trying to get everything right all at once. [...] Hacking is also an inherently hands-on and active discipline. Instead of debating for days whether a new idea is possible or what the best way to build something is, hackers would rather just prototype something and see what works.


2A
Big Brother's Facebook: UK, US intelligence 'infiltration" social media - April 5, 2014














3.
<script language="JavaScript" type="text/javascript" src="http://bullseye.backbeatmedia.com/bullseye/adserver/253/291/viewJScript?pool=124&type=13&pos=8&zone=5000&redirect=aj"></script>
Apple, Google, Facebook Accused of Giving Server Access to NSA
9:57 PM EDT, Jun. 6th, 2013 · by Bryan Chaffin · News
Nine technology companies, including Apple, Google, Facebook and Microsoft, have been accused of giving the National Security Agency (NSA) direct access to the companies servers. Citing leaked documents, The Washington Post reported that the companies were all voluntarily participating in the programs, though Apple denied it was doing so.
Can they hear you now?
The program is not the same as the one reported by The Guardian Thursday morning. In that program, the NSA reportedly obtained a court order that requires Verizon to hand over all business metadata (phone numbers, GPS coordinates, and other non-content-related data pertaining to communications).
The program being reported by The Washington Post is called PRISM, and it's an effort that U.S. technology companies are reportedly participating in voluntarily. Microsoft, Google, and Yahoo! reportedly make up 98 percent of PRISM "production," according to leaked documents.
PRISM as a whole is now, "the most prolific contributor to the President's Daily Brief, which cited PRISM data in 1,477 articles last year." The NSA is reportedly relying on the program to such a degree that it formed the basis of 1 in 7 intelligence reports.
Apple & The Others
Apple was specifically named as a contributing company to PRISM in The Post's documents, but the Cupertino company denied knowledge of it. In a statement, Apple spokesperson Steve Dowling told news organizations:
We have never heard of PRISM. We do not provide any government agency with direct access to our servers, and any government agency requesting customer data must get a court order.
Facebook issued similar denials. The full list of companies participating in the program includes, Microsoft, Yahoo, Google, Facebook, PalTalk, AOL, Skype, YouTube, and Apple. Dropbox was described in the leaked documents as "coming soon."
The report said that Apple resisted becoming involved for five years "for reasons unknown," but Apple is allegedly involved today, despite the denial from the company. Microsoft was the first company to sign up, and that was in 2007. Time tables for the other companies were not given, but note that Twitter is not among the companies listed.
For its part, Google didn't actually deny being part of PRISM, though it did deny creating a back door for the U.S. government. Google's statement:
Google cares deeply about the security of our users' data. We disclose user data to government in accordance with the law, and we review all such requests carefully. From time to time, people allege that we have created a government 'back door' into our systems, but Google does not have a 'back door' for the government to access private user data.
That statement can be read in a lot of ways, and we should note that U.S. law does allow for the PRISM program.
The NSA & Domestic Surveillance
The NSA is technically the U.S.'s cryptologic agency, and is part of the Department of Defense (DOD). The NSA's job is to intercept and decrypt foreign communications and to protect the U.S.'s information systems.
The agency has grown in power and stature within the U.S. intelligence world, in part because the NSA can do something the CIA is legally prohibited from doing, which is operate within the U.S. itself.
More specifically, the CIA is, "specifically prohibited from collecting intelligence concerning the domestic activities of U.S. citizens," according to its own FAQ.
Not so the NSA, so the agency has become the central force in domestic spying, especially in the wake of 9/11. The Bush Administration (with and without the help of Congress) greatly increased the agency's already large role in U.S. intelligence, and the Obama Administration appears to have continued—and in some cases expanded—many of the practices put in place by its predecessor.
PRISM
PRISM's goal is to collect data that can then be mined for clues and hints of terrorist operations, plots, and general goings-on. While that's a topic most people can generally agree upon, the fact that essentially every U.S. citizen is being spied upon without a warrant or probable cause is an issue that those same people can likely agree has the potential for Really Bad Things™. It's certainly an issue for those concerned with civil rights.
For instance, Jamil Jaffer, deputy legal director of the American Civil Liberties Union, told The Post, "I would just push back on the idea that the court has signed off on it, so why worry? This is a court that meets in secret, allows only the government to appear before it, and publishes almost none of its opinions. It has never been an effective check on government."
In a succinct and salient comment, reporters Barton Gellman and Laura Poitras wrote in their Post article, "[PRISM's] history, in which President Obama presided over exponential growth in a program that candidate Obama criticized, shows how fundamentally surveillance law and practice have shifted away from individual suspicion in favor of systematic, mass collection techniques."
To that end, PRISM is theoretically intended to gather communications from foreigners. The NSA doesn't collect all of the data available, but uses its access to selectively slurp specific data it is looking for. Data about and communicated between U.S. citizens in the U.S. does get scooped up in "incidental collections," however, which is a problem.
There is much more in the full four-page article.
Image made with help from Shutterstock.
June 14, 2013, 9:24 PM Wall Street Journal
Facebook, Microsoft Disclose Government Data Requests, But Google Balks
By Evelyn M. Rusli and Shira Ovide

Under scrutiny for handing over user information to the U.S. government, Facebook and Microsoft each disclosed figures on data requests from U.S. government and law enforcement entities–though in a form that shed little light on how many of the information transfers were associated with intelligence agencies.
Google, however, said it wouldn't follow the lead of the other two tech giants, and questioned the value of disclosures without more detailed information.
Facebook late Friday for the first time disclosed that it got between 9,000 and 10,000 requests from all government entities in the U.S. in the second half of 2012. That number includes all requests–from local, state and federal authorities as well as classified national security-related requests.
Microsoft later Friday said it received 6,000 to 7,000 requests for data in the second half of the year, from all U.S. government and law-enforcement entities in the U.S.
In corporate blog posts, both Microsoft and Facebook indicated they weren't satisfied with the level of detail the U.S. government allowed them to provide publicly. Microsoft, for example, already has previously disclosed its 2012 volume of U.S. and worldwide law enforcement requests.
It's not possible to determine how many of requests are associated with agencies such as the National Security Agency, or the secret U.S. court that handles classified foreign-surveillance orders under a law known as the Foreign Intelligence Surveillance Act, or FISA.
"We continue to believe that what we are permitted to publish continues to fall short of what is needed to help the community understand and debate these issues," John Frank, Microsoft deputy general counsel, said in a blog post Friday evening.
In a statement after Microsoft and Facebook released their data, a Google spokesman said the company has "always believed that it's important to differentiate between different types of government requests," referring to requests for data in criminal cases, and data requests stemming from national security-related, classified orders.
"Lumping the two categories together would be a step back for users," the Google spokesman added in the statement. "Our request to the government is clear: to be able to publish aggregate numbers of national security requests, including FISA disclosures, separately."
Like Microsoft, Google has previously disclosed the total number of government and law-enforcement data requests it received last year, excluding the secret surveillance orders the companies previously weren't permitted to acknowledge publicly.
Facebook General Counsel Ted Ullyot said the Facebook requests in the second half of last year sought data about somewhere between 18,000 and 19,000 individual Facebook accounts.

http://blogs.wsj.com/digits/2013/06/14/facebook-got-fewer-than-10000-gov-data-requests-in-2nd-half-of-2012/?mod=djemalertTECH



2. Massachusetts Institute of Technology 76 Page Analysis of
Facebook Threats to Privacy

Click on link to access and download the document:
http://www.scribd.com/doc/2230371/Facebook-Threats-to-Privacy


GAO Concludes that National Security-Related Agencies Have Not Adequately Addressed IT Supply Chain Risks
Posted on March 27, 2012 http://cybersecuritycontractschronicle.com/author/annejanettepickens/
On March 23rd, the Government Accountability Office (GAO) issued a report highlighting the key risks associated with the information technology (IT) global supply chain. The report, "IT Supply Chain: National Security-Related Agencies Need to Better Address Risks" (GAO-12-361), reviews the measures that the Departments of Energy, Homeland Security (DHS), Justice, and Defense (DOD) have taken to guard against these risks, and concludes that these agencies should do more. The report is available at this link.
The potential vulnerability of the IT supply chain is not a new issue. The Comprehensive National Cybersecurity Initiative, put forth by President Bush in 2008, included an initiative focused on enhancing global supply chain risk management, through such steps as raising awareness of the vulnerabilities, developing and using operational and technical tools to mitigate risks across the life cycle of products, and partnership with industry to identify and implement supply chain risk management standards.



3B. "7 reasons I dumped Facebook"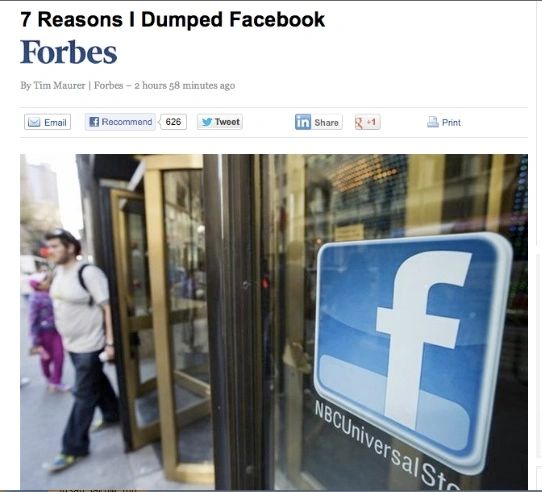 Full Article: http://finance.yahoo.com/news/7-reasons-dumped-facebook-123200359.html


3E. Thousands of Facebook Accounts Hacked



Full Article: http://www.ktsm.com/news/thousands-of-facebook-accounts-hacked










FOR FULL ARTICLE: http://gma.yahoo.com/could-law-enforcement-leverage-facebook-identify-121625276--abc-news-topstories.html





Russian Facebook investors have sparked U.S. concerns
By Robert Windrem, NBC News
The Russian Internet company that this week purchased a stake in Facebook was prominently mentioned last February in a U.S. intelligence report questioning whether Russian oligarchs, operating on behalf of the Kremlin, were gaining too much control of the Internet in the former Soviet Union and Eastern Europe.
Digital Sky Technologies, working with Goldman Sachs, has agreed to invest $50 million in Facebook. The investment gives the Moscow-based company a 2.38 percent stake in Facebook. DST Global, a related investment vehicle, also has an undisclosed stake of its own in Facebook. Unconfirmed reports quoted by Agence France Press put that added stake at 10 percent.
The little noticed intelligence report last year by the Director of National Intelligence noted that DST, the most powerful Internet company in Russia, is the most prominent example of how Russian oligarchs close to the Kremlin have gained increasing control of the Russian Internet, particularly its social networking sites. Although the company is still owned by its founders, one of its largest shareholders is an oligarch that the DNI report said is close to Russian government officials.
The report, entitled, "Kremlin Allies' Expanding Control of Runet (the Russian Internet) Provokes Only Limited Opposition" noted:
"Over the last several years, pro-government oligarchs have accumulated significant stakes in the leading portals of the Russian Internet. Between them, they own the majority of the most popular Russian social networking sites and the majority of the most popular Russian Websites. While media outlets owned by government companies or allies have not yet shown signs of censorship, the leadership and owners of these Russian investment companies are close to the Kremlin and may be willing to cede their business interests to government priorities."
Facebooks Friend in Russia
By Jessi Hempel, writer October 4, 2010: 3:00 AM ET
DST's Yuri Milner makes big bets on social media companies and brings new clout -- along with a mysterious oligarch backer -- to Silicon Valley.
Yuri Milner has 50 friends on Facebook. Mark Zuckerberg is one of them. They met a couple of years ago when Zuckerberg, the Facebook founder and CEO, was trying to learn more about a Russian social network that Milner partly owned. Then, in the spring of 2009, Zuckerberg sold Milner 2% of Facebook for $200 million.
At the time, more than one Silicon Valley insider wrote the investment off as dumb money. Zuckerberg knew better. Milner and his partner, Gregory Finger, had built Digital Sky Technologies from a small Russian investment venture to a holding company that controlled the businesses behind 75% of the pages served on the Russian-speaking web. And because the online-advertising market is far less robust in Russia than in the U.S., DST's companies had already found ways to make money that U.S. companies hadn't tried. "I talked to a bunch of different [venture] firms and I spent time with [Milner] and I was like, this guy is clearly smarter and more insightful and has more experience in what we are doing," Zuckerberg tells Fortune. It helped that Milner, 48, offered great deal terms: His investment valued Facebook at $10 billion, an eyebrow-raising amount at the time, and he didn't ask for a board seat or any other special privileges.
A mere 16 months later, Milner has invested nearly $1.3 billion in American Internet companies. He has increased his Facebook stake to just more than $800 million for roughly 10% of the company, which makes him the second-largest outside investor after Accel Partners. He followed this with mega-investments in Silicon Valley's hot social-gaming company Zynga and group-buying site Groupon, and he paid $188 million to buy the chat service ICQ outright. The investments have attracted the attention of international media companies like Chinese Internet behemoth Tencent and South African media giant Naspers, which have both taken stakes in DST. Now valued at $4 billion, DST is preparing for an initial public offering in London as early as November.
Milner has amassed so much influence in Silicon Valley that entrepreneurs now ask for "DST-style" deals. By that they mean investments in which they receive a lot of money at high valuations without having to give up any control of their companies. Milner generally doesn't demand the kinds of protections other investors cling to -- preferred shares of stock, for example, or a board seat that would let him help influence how decisions are made. He doesn't think he needs them. His bets are so large that if he's wrong, preferred shares won't cushion his loss
//www.facebook.com/sharer.php?u=http%3A//tech.fortune.cnn.com/2010/10/04/facebooks-friend-in-russia/&t=Facebook%27s friend in Russia - Fortune Tech
Facebook Financing Raises Russian Corruption Concerns
News that Goldman Sachs engineered a major stake in Facebook, the world's most popular social networking website, by Moscow-based investment firm DST Global offers more evidence to support Mikhail Khodorkovsky's observation in the Washington Post last year that corruption ranks as a leading Russian export.
"The source of the funds used to make the Facebook investment merits further investigation," said Pavel Ivlev, chairman of the Committee for Russian Economic Freedom. "It's increasingly clear that money stolen by corrupt Russian officials is being spirited out of the country and invested in legitimate Western businesses."
Created in 2005, DST is owned by oligarch Alisher Usmanov and Yuri Milner, founder of Russia's most successful Internet ventures, including Mail.ru.
Usmanov, a native of Uzbekistan, spent six years in an Uzbek prison on a conviction of fraud and embezzlement in the 1980s, charges he says were politically inspired. A Soviet court later dismissed the charges and Usmanov eventually made billions of dollars in the post-Soviet era by managing steel mill subsidiaries for Gazprom before they were spun off as his own businesses.
The record shows that Usmanov's relationship with Vladimir Putin and other Kremlin leaders has made him one of Russia's wealthiest men. From his lead role at Gazprom, the state-controlled energy giant that absorbed assets stolen from Khodorkovsky's Yukos in 2003-2004, to his current company Metalloinvest, Usmanov has made the money he used to invest in Facebook by capitalizing on what former Prime Minister Mikhail Kasyanov calls "Putin's capitalism for friends."
Milner got his start in business working for Khodorkovsky's bank Menatep, setting up a brokerage and investment arm before leaving in 1997, the Financial Times reported. Officials aligned with the regime later prosecuted former Menatap financial executives and tried to force them to testify falsely against Khodorkovsky. But not Milner, who shifted into investing in the Internet with the backing of Usmanov and others tied to Putin.
Following Khodorkovsky's conviction last month a second round of trumped up charges, Russian Foreign Ministry spokesman Andrei Nesterenko dismissed protests from leaders in Washington and EU capitals, saying "we expect everyone to mind their own business, both at home and in the international arena."
Investors in Russia have done just that, "minding their own business" by pulling assets out of the country at an accelerated pace, according to Pavel K. Baev in a post-verdict analysis.
http://russianeconomicfreedom.org/2011/01/05/facebook-financing-raises-russian-corruption-concerns/
Groupon investor Yuri Milner sees five-fold investment leap
By: John Pletz April 26, 2011
(Crain's) — Russian investor and Internet entrepreneur Yuri Milner turned plenty of heads a year ago when he led a $135-million investment in Chicago-based Groupon Inc.
It looks like a shrewd investment now. His 4.6% stake in Groupon is worth $695 million, if even the low end of the rumored $15-billion-to-$20-billion valuation for a Groupon IPO is accurate.
Mr. Milner's stake in Groupon was disclosed in the annual report released Tuesday by his Moscow-based company, Mail.ru, formerly known as Digital Sky Technologies, which went public last year.
Mail.ru operates two of the three largest Russian websites. He has a track record of taking later-stage investments in hot U.S. Internet companies, with stakes in Facebook Inc. and Web-gaming site Zynga Gaming Network Inc.
http://www.chicagobusiness.com/article/20110426/NEWS07/110429904/groupon-investor-yuri-milner-sees-five-fold-investment-leap
Who is Alisher Usmanov
By Scott Olster, editor October 4, 2010: 3:00 AM ET
By Bill Powell and Jessi Hempel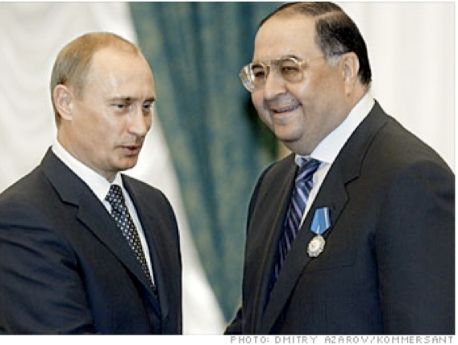 Alisher Usmanov is one of Vladimir Putin's "oligarchs," as the businessmen in Moscow with deep ties to the Kremlin have come to be called. That he is one of Putin's oligarchs is to say that he was not one of Boris Yeltsin's. In the early 1990s, Yeltsin's disciples got hugely rich buying formerly state-owned enterprises in Russia on the cheap. Usmanov was virtually unknown at that time but is now one of his country's richest men. Assets he controls are estimated to be worth anywhere from $8 billion to $10 billion. His empire includes stakes in a metals and mining company (Metalloinvest), traditional media (the Moscow daily newspaper Kommersant), telecom (cellphone company Megafon), the British soccer club Arsenal, and, through DST, social-media companes. A private-sector source who has looked extensively into Usmanov and his businesses estimates his personal wealth at about $1.5 billion.
The issue with Usmanov is the question of provenance. How is it that a man who served time in Uzbekistan later found his way to the position of deputy CEO of Gazprominvestholding, the investment arm of energy giant Gazprom, the most powerful and politically connected company in Russia?
http://tech.fortune.cnn.com/2010/10/04/who-is-alisher-usmanov/




Who is Alisher Usmanov?
Last updated at 23:13 30 August 2007
Alisher Usmanov is Russia's 18th richest man with a fortune worth about £2.8billion and is a close friend of President Vladimir Putin.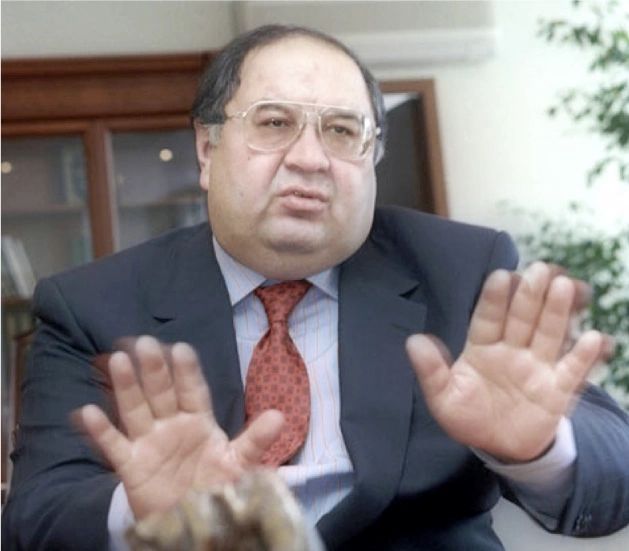 Known as one of Russia's shrewdest investors, he was involved with the rise of gas giant Gazprom. A business contact said: "Usmanov may look like a Soviet apparatchik but he is one of the cleverest businessman to emerge in the new Russia."
A big player: Usmanov is worth £2.8bn
Raised in Uzbekistan with contacts to the ruling elite in what was then a Soviet province, he unjustly fell foul of the law as a young man and was imprisoned for an offence that was later rescinded from his police record. He claimed it was political persecution.
Usmanov, 53, who has shown no interest in football, is married to Irina Viner, a top rhythmic gymnastics coach. He is president of the European Federation of Fencing and fenced for the USSR.
Richest Russian Alisher Usmanov Aided by Facebook as Billionaire
By Mikhail Kozyrev, Lyubov Pronina and Yuliya Fedorinova - Mar 4, 2012 4:00 PM PT
Alisher Usmanov, the Muscovite who controls the Metalloinvest metals and mining company, trumped steel billionaire Vladimir Lisin as Russia's richest man through timely bets on tech companies including Facebook Inc.
Usmanov's personal net worth now totals more than $20 billion, according to the Bloomberg Billionaires Index, pushed up mainly by the value of his stake in Facebook Inc. (FB), which is now worth more than $4 billion, based on Bloomberg data. He also owns stakes in Twitter Inc., Groupon Inc. and China's Alibaba Group Holding Ltd. (ALIBABZ).
Enlarge image
Alisher Usmanov, founder of Metalloinvest, seen here in London on Nov. 7, 2008. Photographer: Oli Scarff/Getty Images
March 5 (Bloomberg) -- Carlos Slim, the telecommunications tycoon who controls Mexico's America Movil SAB, is the richest person on Earth, according to the Bloomberg Billionaires Index, a daily ranking of the world's 20 wealthiest individuals. Owen Thomas, Linzie Janis and Matthew G. Miller report on Bloomberg Television's "Countdown." (Source: Bloomberg)
The value of the 5.5 percent stake in Facebook that Usmanov controls through Digital Sky Technologies, or DST, has probably jumped ninefold since 2010, when he accumulated shares in the social network leader. Usmanov, 58, owns about 80 percent of DST, according to a person familiar with the matter who declined to be identified because the information isn't public.
"We saw potential in Internet companies a few years ago and it was then that we began to invest in such private companies as Facebook, Groupon, Zynga and others," Usmanov told Bloomberg Markets magazine in January.
That diversification of assets allowed Usmanov to increase his wealth in a year in which falling metals prices hurt the fortunes of his richest Russian peers, such as OAO Novolipetsk Steel's Lisin and OAO Severstal's Alexey Mordashov.
http://www.bloomberg.com/news/2012-03-05/richest-russian-alisher-usmanov-aided-by-facebook-as-billionaire.html
Q


10B.

Why Facebook and Silicon Valley owe it all to Moscow
By Bobbie Johnson May. 8, 2012, 2:39am PT 8 Comments
When Russia's Digital Sky Technologies stepped in and spent $200 million on Facebook stock in 2009, it took many people by surprise. The company had been little known outside its home territory, but was suddenly making a name for itself with significant investments in Silicon Valley businesses — often at aggressive valuations.


To some, the strategy looked crazy. In a deal overseen by Yuri Milner — an elusive former physics grad student from Moscow — the money was not just substantial, but it came with almost no strings attached. Not only did Milner have little say in how the company was run and no voice on the board, but he also agreed in a side deal to buy back another $100 million in stock from existing shareholders.
It was the sort of approach that left many in the Bay Area wondering if he understood how venture capital worked at all.
But when Mark Zuckerberg's social network goes public later this month, Milner's strategy will score its greatest triumph, as DST and its partner Mail.ru Group plan to sell around a third of their stake for $1.5 billion, netting a huge profit.
Who's crazy now?
Vindication
According to Facebook's IPO prospectus, DST — which operates through a complicated series of companies, is lining up the sale of more than 26 million shares worth nearly a billion dollars at the high end. Meanwhile Mail.ru, another holding company related to DST, will sell in the region of 11 million shares for up to $400 million.
The money will not only boost Milner's personal wealth, but also plump the bank account of his main backer, the Uzbek oligarch and industrial magnate Alisher Usmanov — who Forbes says is already worth some $18 billion.
http://gigaom.com/europe/why-facebook-and-silicon-valley-owe-it-all-to-moscow/
'Russian Zuckerberg' Sells to Putin Crony
Jan 27, 2014 9:40 AM ET
Pavel Durov is often described as Russia's answer to Mark Zuckerberg, because the social network he founded in 2006, VKontakte, is more popular here than Facebook Inc. Unlike his U.S. counterpart, however, Durov has now sold his entire stake in the company he founded.
The decision to cash out might be no big deal, except that this is Russia. Durov sold to a trusted partner of Russia's richest man, Alisher Usmanov, who is known for his unswerving loyalty to President Vladimir Putin. The 29 year-old Durov appears to have been too independent to be allowed to run a social network that had a wider reach than the nation's tightly-controlled major TV channels.

For Full Article: http://www.bloombergview.com/articles/2014-01-27/-russian-zuckerberg-sells-to-putin-crony


Russian Intelligence Calls Facebook Information Warfare Weapon
by TheTotalCollapse.com on August 13, 2
A senior Federal Security Service (FSB) official speaking off the record to reporters this morning in the Kremlin labeled the US social media website Facebook as the world's most dangerous "Information Warfare Weapon" and stated that unless its powers were curbed the freedoms of everyone on Earth would be stripped away entirely.
Important to note is that this top FSB official had previously (April, 2011) urged Russia to ban Skype, Gmail and Hotmail as "major threats to national security," a request quickly rejected by the Kremlin due to how such a move would be characterized in the West.
In his assessment of Facebook, however, this FSB official warned that this supposedly privately run social media website is, in fact, a creation of the United States Information Awareness Office (IAO) whose chilling logo [top photo right] is the "all seeing eye" capstone of the Great Pyramid shining its penetrating gaze upon the whole Earth and whose avowed 2002 mission statement is to achieve Total Information Awareness (TIA) over the entire population of America.
The IAO states that TIA would be achieved by creating enormous computer databases to gather and store the personal information of everyone in the United States, including personal e-mails, social networks, credit card records, phone calls, medical records, and numerous other sources, without any requirement for a search warrant.
The end result seen by the IAO is what they call Human Identification at a Distance (HumanID) that they describe as:
"The HumanID project is an automated biometric identification technology to detect, recognize and identify humans at great distances for "force protection," crime prevention, and "homeland security/defense" purposes.
http://www.thetotalcollapse.com/russian-intelligence-calls-facebook-information-warfare-weapon/




Saratoga girl's suicide fuels cyberbullying debate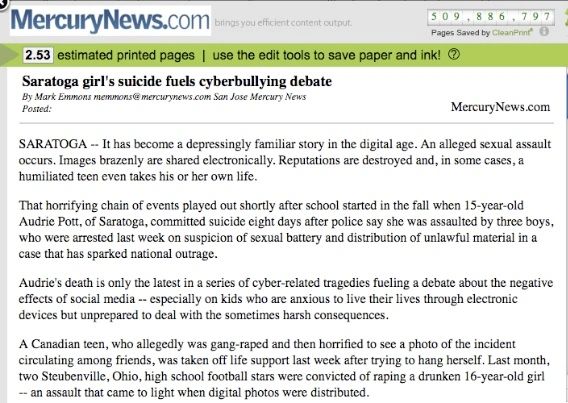 This undated photo provided by her family via attorney Robert Allard shows Audrie Pott. A Northern C
For Full Story: http://www.mercurynews.com/bay-area-news/ci_23016465/saratoga-girls-suicide-fuels-cyberbullying
Mexican Drug War Spreading to the Web
Saturday, August 13, 2011 |
Borderland Beat Reporter Buggs
By Patrick Manning
Fox News Latino
The Mexican drug war that has taken thousands of lives over the past four years isn't just on the other side of the border.
It's now online.
Cartels are using Facebook and Twitter to find out information on potential victims and to track them down.
Drug cartels just want you to "Like" them on Facebook–Better that than a "poke" in MySpace.
As noted in Tuesday's Spotlight post, CDCR and Facebook are trying to crack down on inmates operating social website pages and those doing so as convict proxies. Today we learn Mexican narco-terrorists have been using Facebook and Twitter to locate victims, threaten rivals and coordinate crimes.
From the standpoint of Officer Safety, I cannot overstate the importance of maintaining social network discipline in law enforcement homes.
To be blunt, anyone who wants to find out where you live can do so with relative ease regardless of the existence of a Facebook or MySpace page–The Privacy Train left the station on a one way trip decades ago.
Now, Social Network sites make it WAY TOO easy for people to find out WAY TOO MUCH INFORMATION about you. When the people seeking you out are freaks from your high school or college days, well, that's one thing. When it's an associate of that Bulldog whose cell you tossed last week, that's something else…
Patrick Manning | Fox News Latino
The Mexican drug war that has taken thousands of lives over the past four years isn't just on the other side of the border.
It's now online.
Cartels are using Facebook and Twitter to find out information on potential victims and to track them down.
Facebook can be a resource for the cartels to search for the business owners and find out to whom they may related, and what members of the family may still live in Juárez. They may threaten to kidnap a family member or extort their business if they do not pay ransom, experts said.
When Facebook users use the "Check In" function on their mobile devices, it tells cartel members (or any criminal) where they can find their targets. Students at the University of Texas-El Paso recommended not using that function – and to keep their Facebook profiles as private as possible.
That includes not accepting friend requests from strangers…
Mexican law enforcement agents don't have the time or personnel to monitor what dangerous information is being posted on social media sites and YouTube…(Full text at FoxNews Latino)
http://www.borderlandbeat.com/2011/08/mexican-drug-war-spreading-to-web.html
To Battle Cartels, Mexico Weighs Twitter Crackdown
By Alexis Okeowo / Mexico City Wednesday, Apr. 14, 20
Monica Rodriguez / Getty Images
Mexican drug cartels appear to have adopted a new technique to avoid military raids and police checkpoints: using Facebook and Twitter. And so now the Mexican government is trying to crack down ... on the use of Facebook and Twitter.
Facebook has been on the radar of government officials who believe that it has been used to facilitate the abduction of the relatives of powerful businessmen and politicians, with kidnappers allegedly using the social-networking site to discover the identities of a high-profile person's family members. Meanwhile, authorities, already peeved that ordinary citizens have been using Twitter to alert one another to the locations of Breathalyzer checkpoints via @antiaa_df, are now furious that drug dealers are using Twitter accounts to circumvent dragnets and communicate with one another.

Read more: http://www.time.com/time/world/article/0,8599,1981607,00.html#ixzz1vkmLTGPP
Lots Of Facebook Users Are Idiots, Says Consumer Reports
Has Mark Zuckerberg done us wrong by tempting us to overshare? Consumer Reports thinks so.
The folks at Consumer Reports called up over 1,300 households using Facebook and have produced a doozy of a report on how Americans are using the world's favorite social network. Applying the survey findings for the 1,300 folks they called to Facebook's 150+ million American users, Consumer Reports paternalistically says:
Some people are sharing too much. Our projections suggest that 4.8 million people have used Facebook to say where they planned to go on a certain day (a potential tip-off for burglars) and that 4.7 million "liked" a Facebook page about health conditions or treatments (details an insurer might use against you).
http://www.thetotalcollapse.com/russian-intelligence-calls-facebook-information-warfare-weapon/
FBI Warns: Humans Are a Weak Link in Cyber Security
9:00 AM - May 1, 2012 - By Kevin Parrish - Source : The FBI
The FBI is warning Web users about the potential danger involved with loading personal information on social networks.
For those who are bored of the same old Facebook and Twitter chatter and need something briefly interesting to read, the FBI has posted a warning about the risks of social networking. Also available in PDF format, the briefing seems a little late in the game but well-intentioned nonetheless, alerting internet users to the ways of con artists, criminals, and other dishonest actors that are exploiting our favorite social hotspots.
"Humans are a weak link in cyber security, and hackers and social manipulators know this," the report states. "They try to trick people into getting past security walls. They design their actions to appear harmless and legitimate. Falling for an online scam or computer hack could be damaging for an individual victim as well as the organization the victim works for."
According to the FBI, evildoers use two tactics to exploit online social networks that are often times combined: (1) hackers writing and manipulating computer code to gain access or install unwanted software on a computer or phone; (2) social hackers (aka social engineers) manipulating people through social interactions in person, over the phone, or in writing.
"Once information is posted to a social networking site, it is no longer private," the FBI states. "The more information you post, the more vulnerable you may become. Even when using high security settings, friends or websites may inadvertently leak your information."
Predators, hackers, business competitors, and foreign state actors troll social networking sites looking for information or people to target for exploitation, the agency says. This information may be used to design a specific attack that does not come by way of the social networking site.
Virtual Terrorism: Al Qaeda Video Calls for 'Electronic Jihad'
By Jack Cloherty | ABC News – 8 hrs ago
Al Qaeda may be turning its destructive attention to cyber-warfare against the United States. In a chilling video, an al Qaeda operative calls for "electronic jihad" against the United States, and compares vulnerabilities in vital American computer networks to the flaws in aviation security before the 9/11 attack.
The al Qaeda video calls upon the "covert mujahidin" to launch cyber attacks against the U.S. networks of both government and critical infrastructure, including the electric grid. The video was obtained by the FBI last year, and released today by the Senate Committee on Homeland Security and Governmental Affairs.
"This is the clearest evidence we've seen that al Qaeda and other terrorist groups want to attack the cyber systems of our critical infrastructure," Homeland Security and Governmental Affairs Committee Chairman Joe Lieberman, I-Conn., said in a statement.
"This video is troubling as it urges al Qaeda adherents to launch a cyber attack on America," said Sen. Susan Collins, R-Maine, the ranking member on the committee. "It's clear that al Qaeda is exploring all means to do us harm and this is evidence that our critical infrastructure is a target."
The national security community says the threat of cyber attack is real, and the gap between terrorist aspirations and capability is closing. The senior intelligence official at Cyber Command, Rear Adm. Samuel Cox, has said al Qaeda operatives are seeking the capability to stage cyber attacks against U.S. networks and terrorists could purchase the capabilities to do so from expert criminal hackers.
Advertise | AdChoices
Updated at 10:54 a.m. (Pacific time) — Anonymous hackers have posted a YouTube video of a candid conference call between the FBI and Scotland Yard in which investigators talk about hacking suspects, including a 15-year-old one UK- By msnbc.com staff and wire services
based law enforcement official called "a bit of an idiot" and a "pain in the butt."
This sensitive conference call between the FBI and Scotland Yard was recorded by the very people they were trying to catch, the hacking group known as Anonymous claimed Friday.
The group released a nearly 17-minute-long recording of what appears to be a Jan. 17 conference call devoted to tracking and prosecuting members of the loose-knit hacking group. (Hear it below.)
http://www.technolog.msnbc.msn.com/technology/technolog/hackers-we-intercepted-fbi-scotland-yard-call-23612
Glenn Mangham Sentenced To Prison After 'Extensive' Facebook Hack
By RAPHAEL SATTER 02/17/12 02:45 PM ET
http://www.huffingtonpost.com/2012/02/17/glenn-mangham-facebook-hack_n_1285254.html?view=print&comm_ref=false
React
LONDON -- A British student who stole sensitive information from Facebook's internal network was sentenced to eight months in prison Friday in what prosecutors described as the most serious case of social media hacking ever brought before the country's courts.
Prosecutor Sandip Patel said that Glenn Mangham, 26, had hacked into the social networking giant's computers from his bedroom in the northern England city of York and stole what was described as "invaluable" intellectual property.
"He acted with determination, undoubted ingenuity and it was sophisticated, it was calculating," Patel told London's Southwark Crown Court ahead of sentencing Friday. He added later: "This represents the most extensive and grave incident of social media hacking to be brought before the British courts."
London Chief Prosecutor Alison Saunders echoed Patel's description, saying in a statement that Mangham's actions were "extensive and flagrant." It was not immediately clear exactly what he stole, although Saunders said that no personal user data had been compromised.
Scotland Yard said in a statement that the breach had occurred "over a short period of time" in April of last year. The court was told that Mangham had obtained the information after hacking into the account of a Facebook employee while the staff member was on vacation.
The police statement said that Facebook Inc. discovered the breach in May and alerted the FBI, who traced the source of the attack back to Britain. Scotland Yard's e-crimes unit raided Mangham's home on June 2.
The software development student pleaded guilty on Dec. 13. His lawyer, Tony Ventham, described Mangham as an "ethical hacker" who saw the stunt as a challenge – and stressed that his client had never tried to sell the stolen data or pass it on to anyone else.
"This is someone who in previous times would have thrown everything aside to seek the source of the Nile," Ventham said. "He was in his own world, his own bedroom, his own mind, his own project and certainly his intention throughout was to contact Facebook in due course when he had rectified their problems."
But while Judge Alistair McCreath accepted that Mangham had not tried to profit from his crime, he said that the defendant's actions still had "very serious potential consequences" which could have been "utterly disastrous" for Facebook.
"This was not just a bit of harmless experimentation," McCreath told Mangham. "You accessed the very heart of the system of an international business of massive size, so this was not just fiddling about in the business records of some tiny business of no great importance."
The Palo Alto, California-based Facebook said in a statement that it applauded police and prosecutors' efforts in the case, adding: "We take any attempt to gain unauthorized access to our network very seriously."
The company, which boasts some 845 million users worldwide, recently filed papers for its initial public offering at the beginning of this month, putting it on track to price its stock in May or June.
Facebook is expected to be valued at $75 billion to $100 billion.
___
British student jailed for hacking Facebook
Posted on 20 February 2012.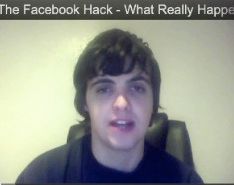 26-year-old software development student Glenn Mangham has been sentenced to spend eight months in jail following his hack into several Facebook servers between April and May last year.

From his bedroom in the family home in York, Mangham managed to breach a Facebook webserver, the Facebook account of a company employee - which he then misused to access the company's Mailman server - and the Phabricator server used by Facebook's developers.
When Facebook discovered the compromise, they believed they had a cyber spy on their hands as Mangham had exfiltrated valuable source code. They contacted the FBI, and after the agency pinpointed the provenience of the attack, they contacted British law enforcement, which effected a raid on Mangham's home and arrested the youth.
Mangham has admitted his involvement in the matter, but argued that he did it all that he could point out the vulnerabilities to the Facebook security team and, hopefully, be thanked and maybe even remunerated for his efforts - as he had been in a previous case by Yahoo.
Facebook, who had to spend over $200,000 in order to deal with the effects of the breach, didn't look at it that way.
http://www.net-security.org/secworld.php?id=12432
WikiLeaks founder: Facebook is "most appalling spying machine ever invented"
By Emil Protalinski | May 3, 2011, 2:57pm PDT
Summary: WikiLeaks founder Julian Assange has called Facebook "the most appalling spying machine that has ever been invented." Facebook has responded.
WikiLeaks founder Julian Assange may be awaiting extradition to Sweden on sexual assault charges but that doesn't mean the media has lost interest in what he has to say about various important issues. In a recent interview with Russia Today, Assange was asked for his perspective on the revolutions in the Middle East.
After Assange compared the differences between what is happening in Egypt and Libya, he was asked about the role of social networks such as Facebook. That's when the WikiLeaks founder erupted:
Facebook, in particular, is the most appalling spying machine that has ever been invented. Here we have the world's most comprehensive database about people, their relationships, their names, their addresses, their locations, their communications with each other, their relatives, all sitting within the United States, all accessible to US intelligence. Facebook, Google, Yahoo – all these major US organizations have built-in interfaces for US intelligence. It's not a matter of serving a subpoena – they have an interface that they have developed for US intelligence to use.
Now, is it the case that Facebook is actually run by US intelligence? No, it's not like that. It's simply that US intelligence is able to bring to bear legal and political pressure to them. And it's costly for them to hand out records, one by one, so they have automated the process. Everyone should understand that when they add their friends to Facebook, they are doing free work for United States' intelligence agencies, in building this database for them.
http://www.zdnet.com/blog/facebook/wikileaks-founder-facebook-is-8220most-appalling-spying-machine-ever-invented-8221/133




Facebook, MySpace caught releasing user data
Fri May 21, 5:47 pm ET
In a seemingly never-ending string of damaging disclosures about its users' privacy concerns, Facebook has reportedly been releasing user data to ad companies that hadn't even asked for the info.
Facebook isn't alone this time: rival social-media site MySpace has also been called out in Friday's Wall Street Journal report by Emily Steel and Jessica E. Vascellaro — together with the content-sharing sites Livejournal and Digg.
The report says that the companies have delivered user data to major online advertising companies such as Google's DoubleClick and Yahoo!'s Right Media, despite explicit pledges to protect such information. The released material includes user names and ID numbers, together with data that could be used to accumulate a host of additional information on individual users, such as where they live, their names, occupations, incomes and places of employment.
U.S. Feds get warrants to mine Facebook accounts
As if Facebook wasn't already enough of a data mining operation, judges are allowing Feds to access account information such as addresses, telephone numbers, friends' lists in order to… you guessed it: 'fight crime'.
By Robert Snell
The Detroit News
April 25, 2011
Federal investigators in Detroit have taken the rare step of obtaining search warrants that give them access to Facebook accounts of suspected criminals.
The warrants let investigators view photographs, email addresses, cell phone numbers, lists of friends who might double as partners in crime, and see GPS locations that could help disprove alibis.
There have been a few dozen search warrants for Facebook accounts nationwide since May 2009, including three approved recently by a federal magistrate judge in Detroit, according to a Detroit News analysis of publicly available federal court records.
The trend raises privacy and evidentiary concerns in a rapidly evolving digital age and illustrates the potential law-enforcement value of social media, experts said.
http://real-agenda.com/2011/04/26/u-s-feds-get-warrants-to-mine-facebook-accounts/
Military May Ban Twitter, Facebook as Security 'Headaches'
U.S. military is strongly considering a near-total ban on Twitter, Facebook, and all other social networking sites throughout the Department of Defense, multiple sources within the armed forces tell Danger Room.
It's the latest twist in the Defense Department's tangled relationship with so-called "Web 2.0″ sites. But while earlier social media blockades have been thrown up over bandwidth and secrecy concerns, this fresh ban stems from fears that Facebook and the like make it far too easy for hackers and cybercrooks to gain access to the military's networks.
http://www.wired.com/dangerroom/2009/07/military-may-ban-twitter-facebook-as-security-headaches/
How To Hack Facebook In 51 Seconds
Vasanth Sridharan March 28, 2008|
So Byron Ng isn't a real Facebook hacker. But apparently it isn't hard to become one, if you've got any technical skills at all. Hacking Facebook is a cottage industry, with hundreds or thousands of unpaid workers beavering away. The video below shows how to monkey with your friends "Moods" app -- in less than 1 minute.
Right now the worst case-scenario for Facebook apps usually means someone's private photos get exposed -- and even the most gullible Facebook user there's no such thing as true privacy on the Web. (Right?) But as Facebook gets more ambitious -- see its upcoming PayPal-like currency -- that's going to change.
http://articles.businessinsider.com/2008-03-28/tech/30016976_1_facebook-apps-zuckerberg-social-networks - comments0


26A
Hack your own Facebook and Protect Yourself







Link http://www.thedailybeast.com/articles/2013/09/24/7-hacks-to-revolutionize-your-facebook-experience.html



May 11, 2010 5:39 PM
Five Hidden Dangers of Facebook
CBSNews
Facebook claims it has 400 million users. But are they well-protected from prying eyes, scammers and unwanted marketers? Not according to Joan Goodchild, senior editor of CSO (Chief Security Officer) Online.
She says your privacy may be at far greater risk of being violated than you know when you log onto Facebook, due to security gaffes or marketing efforts by the company.

Facebook came under fire this week, when 15 privacy and consumer protection organizations filed a complaint with the Federal Trade Commission, charging that the site, among other things, manipulates privacy settings to make users' personal information available for commercial use. Also, some Facebook users found their private chats accessible to everyone on their contact list - a major security breach that's left a lot of people wondering just how secure the site is.

In two words, asserts Goodchild - not very.
On "The Early Show on Saturday Morning," she spotlighted five dangers she says Facebook users expose themselves to, probably without aware of it:
• Your information is being shared with third parties
• Privacy settings revert to a less safe default mode after each redesign
• Facebook ads may contain malware
• Your real friends unknowingly make you vulnerable
• Scammers are creating fake profiles
Is Facebook a secure platform to communicate with your friends?

Here's the thing; Facebook is one of the most popular sites in the world. … Security holes are being found on a regular basis. … It is not as inherently secure as people think it is when they log on every day.
STORY FROM WIRED
Security dangers of Facebook and other social networks
The security dangers that Facebook, My Space, LinkedIn and other social networks present are highlighted in this report from eWeek.comUsing Facebook to Social Engineer Your Way Around Security
A penetration test by Netragard at an energy company highlights how hackers can use Facebook, LinkedIn and other social networking sites as part of phishing schemes. In the test, Netragard used social engineering to get its hands on information that could have been used to compromise critical systems at the company. Addressing this security issue means having smart policies about what employees can and cannot do on the Web.
Is This Espionage 2.0?
By Catherine A. Fitzpatrick
July 02, 2010
The media following the intriguing story of the FBI's roll-up of a network of alleged Russian spies have been obsessed with the Facebook pictures of one of the accused, Anna Chapman -- a striking redhead who posted numerous sexy poses of herself taken against the Manhattan skyline. Yet few have bothered to look past the sensational shots to her list of friends -- perhaps because many of the names were unfamiliar and Russian -- to see the kind of network a would-be spy might create using today's free and easy social media tools. To be sure, the number of Chapman's Facebook friends has been dwindling by the hour. When some people woke up the other day to learn they had friended a suspected spy, they deleted her quickly. As a Russian translator and blogger about new media, I was not surprised to find I was only one degree of Facebook-friend separation from the startupshchitsa, as Chapman has been called by her online friends (her last wall posting was about attending a Moscow event on how to find venture capital for start-ups).
Lightweight, Portable Network
Yet far from uncovering a band of bumbling agents ineptly run by aging Cold Warriors, the FBI has stumbled upon a lightweight and portable network -- not destroyed by these arrests at all -- of young, connected, tech-savvy, affluent Russians and Americans in Silicon Valley and Silicon Alley (as tech start-ups in Brooklyn are called), enthusiastically involved in Skolkovo, Russia's new Silicon Valley.
http://www.rferl.org/content/Is_This_Espionage_20_Anna_Chapman_spy_Russia/2089061.html
On Facebook? You're An Open Book Now
KOMPAS.com - Facebook is under fire from security experts after making it more difficult for its users to keep personal details private. A European watchdog said it was unacceptable that 400million members had no option but to share some personal details after the site changed security settings. Potentially sensitive information that users were previously able to hide - such as their photographs, likes, dislikes and interests - is now automatically on display to everyone else on Facebook, from potential bosses to fraudsters and sex pests. Even those who do not use the site can see these details by typing a name into search engines.Default settings introduced in December mean other sensitive information - such as updates on where members are going, what they are doing and their list of friends - is now also automatically made public unless otherwise specified Facebook users can also see information written about users' family, relationships and home town.
The company, which has long been criticised for disregarding the fundamental right to privacy, says it has simply made its settings easier to use.
http://english.kompas.com/read/2010/05/14/13190653/On.Facebook.Youre.An.Open.Book.Now
by Carole Theriault on May 9, 2012 | Comments (3)
In the wake of employers requesting access to job candidates' Facebook accounts, a new issue bobs to the surface: should schools use Facebook to spy on students?
Getty Images
The fears of a generation have been confirmed, as a new survey reveals that more than 50% of parents use social media as a way of spying on their children—and that even more would do so if they knew how.
The survey of 2,000 British parents, carried out by OnePoll, found that 55% of respondents use social media to track their kids' online activities, with a further 5% admitting that, if they knew how to do the same thing, they would.
(PHOTOS: Life Inside Facebook's Headquarters)
Furthermore, 11% of those polled admit they created a Facebook profile purely to track their children, with 13% saying that they have logged onto friends' accounts to check up on their children, some doing so after attempting to friend their offspring and being rejected—15% of those polled have tried to friend their kids on Facebook, with 4% of them getting rejected.
The results of the survey are likely depressing to the youth of the U.K., but can't be that surprising; social media has long been considered an easy way of keeping track of people, after all—so much so that the Onion has already revealed the true origins of Facebook:

Read more: http://techland.time.com/2011/07/18/more-than-50-of-parents-use-facebook-to-spy-on-their-kids/?CNN=yes#ixzz1w283kpZB









32, The Mental affect of Facebook - University of Michigan Study

Full Story: http://www.npr.org/blogs/alltechconsidered/2013/08/19/213568763/researchers-facebook-makes-us-sadder-and-less-satisfied?utm_medium=Email&utm_campaign=20130825&utm_source=mostemailed



34. September 28, 2013


WASHINGTON (AP) — For almost three years the National Security Agency has been tapping the data it collects to map out some Americans' social connections, allowing the government to identify their associates, their locations at certain times, their traveling companions and other personal information, The New York times reported
Citing documents provided by former NSA systems analyst Edward Snowden, the Times reported that the NSA began allowing the analysis of phone call and e-mail logs in November 2010 to examine some Americans' networks of associations for foreign intelligence purposes after NSA officials lifted restrictions on the practice. The newspaper posted the report on its website Saturday.
A January 2011 memorandum from the spy agency indicated that the policy shift was intended to help the agency "discover and track" connections between intelligence targets overseas and people in the United States, the Times reported.
The documents Snowden provided indicated that the NSA can augment the communications data with material from public, commercial and other sources, including bank codes, insurance information, Facebook profiles, passenger manifests, voter registration rolls and GPS location information, as well as property records and unspecified tax data, the paper reported.
NSA officials declined to say how many Americans have been caught up in the effort, including people involved in no wrongdoing, the Times reported. The documents do not describe what has resulted from the scrutiny, which links phone numbers and e-mails in a "contact chain" tied directly or indirectly to a person or organization overseas that is of foreign intelligence interest, the paper reported.
The documents provided by Snowden don't specify which phone and e-mail databases are used to create the social network diagrams, the Times reported, and NSA officials wouldn't identify them. However, NSA officials said the large database of Americans' domestic phone call records revealed in June was not used, the paper reported.
Disclosures from documents leaked by Snowden earlier this year have sparked debate over the government's surveillance activities and concerns that Americans' civil liberties have been violated by the data collection. Russia has granted temporary asylum to Snowden, considered a fugitive from justice in the U.S., and his whereabouts remain secret.


Site access: http://micahmwhite.com/adbusters-articles/commit-facebook-suicide